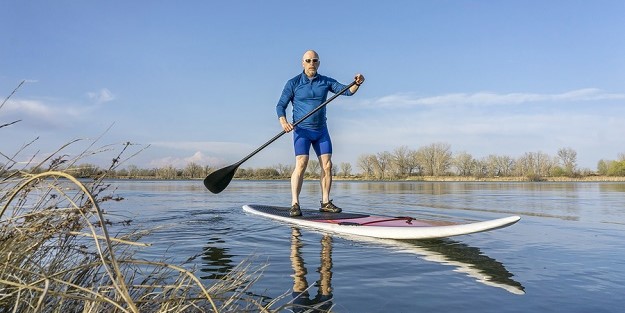 Perhaps you have done a lot of research, your friends rave about SUPs, and you just want to rush out and buy one. Slow down, pump your brakes and cool your jets. There are a few things you need to know so that you get the perfect stand up paddleboard, especially if this is your first time purchasing this unique and versatile piece of water sport equipment. Follow the 5 tips below when purchasing your first paddleboard and you will never suffer buyer's remorse.
1 – Try Before You Buy: Take a Test Drive
You can rent stand up paddle boards before you buy them. Some of the larger sporting equipment stores that sell SUPs even have their own man-made water source on the premises. That means you can try and buy in the same location. Just make sure to put in ample time on the 3 main types of boards before you make what can be a rather sizable investment.
2 – Choose What Type of Board That Fits Your Lifestyle
As mentioned above, there are basically 3 kinds of SUPs. They are …
Surfing SUP
Cruising SUP
All-around SUP
If you live near the beach and love surfing, an SUP board that is shorter and built for speed is probably what you are looking for. A cruising or touring stand up paddleboard is extra long, with a tapered point and plenty of onboard room for cargo. This is preferred if you are going to spend your time on flat, calm water. An all-arounder delivers a little bit of both of those experiences, and is often recommended for beginners.
3 – Break Out the Measuring Tape
Now that you know which board you are going to buy, you need a paddle. Some beginners make the mistake of purchasing a paddle which is too long. This will wear your arms out quickly, as you have to hold them too high in the air. When your paddle is too short your back will be killing you, and you will not have much fun on the water. (If you follow rule number 1, you will know which length works perfectly for you.) Remember this rough guide …
For racing – 10 to 12 inches taller than you are
For cruising and touring – 8 to 10 inches taller than your height
For surfing – 6 to 8 inches taller than you
4 – Don't Forget the Accessories
You may think that the retail salesperson you are dealing with is just trying to pad the sale when they offer you a leash, SUP wheeled carrier, car rack, carry straps and personal flotation device. Not every stand up paddler requires all of those accessories. But just like any sport, the devil is in the details sometimes, and those extras can make for a better experience. (You definitely must have a leash, and a PFD may be required by law in your area.)
5 – Sun Protection and Correct Clothing
Never overlook sun protection. Aside from possibly causing cancer later in life, overexposure to sun can make for a miserable day on the water. You need to wear the right type of clothing too. You should wear a dry suit or wetsuit in cool conditions. Comfortable, nonbinding shorts and T-shirts, or even a bathing suit, can make for the perfect SUP experience when the weather is mild or warm.
* Bonus Tip 6 – Waterproof Accessory Bag
Consider strapping a waterproof bag or backpack to your board if you are just touring, fishing or cruising. This allows you to carry along a dry set of clothing and any other items that can make your SUP outing a more complete outdoor experience.