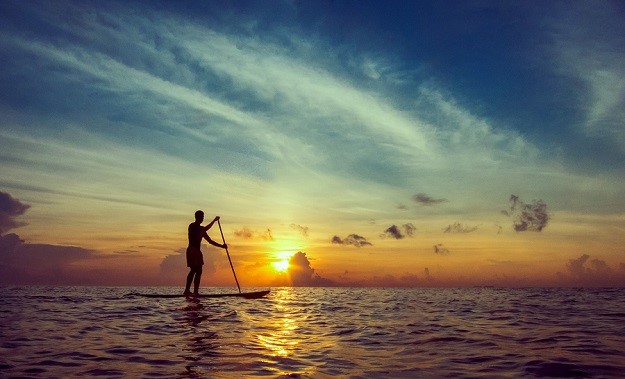 Stand up paddleboards offer a lot of rewards for young and old, women and men alike. But in your haste to get out on the water and have fun, you may be overlooking some important safety concerns. If you want your SUP experience to be a positive one, remember the following top 7 SUP safety tips.
1 – Get in Shape
SUPs can be a lot of fun. They get you out on the water, in the great outdoors, they are the perfect vehicle for socializing, and they are super versatile. But a day spent on your SUP can be very grueling physically if you are not prepared. Boost your cardiovascular system and overall body strength before you take up paddleboarding, and you have a better chance of enjoying a safe, injury-free experience.
2 – Know Your Body of Water
Check tide and current charts. Bring along someone who knows the body of water you are going to be paddling on if you are not familiar with it yourself. Check the weather report. Know everything that could affect the water source where you plan to paddle before you head out.
3 – Stick to Your Board
If you become injured or find yourself in an emergency situation, stay with your board. Your SUP is much more visible than you are, and makes the perfect flotation device if you are injured or worn-out. A leash ensures you can always retrieve your board.
4 – Never Go Out Alone
This should be a no-brainer. However, when the weather is perfect, you have a day off from work and none of your friends or fellow paddlers are available, it may seem impossible to resist the urge to hit the water. You have to anyway. There is always tomorrow, and if you go out alone you may not be able to rescue yourself from an emergency situation. Don't take the risk.
5 – Wear a Life Jacket (Personal Flotation Device)
A PFD is designed to hold you in a face-up, floating position in the water. If you suffer a head injury and are rendered unconscious, a personal flotation device just may save your life. It also cushions any falls or tumbles you make from your board.
6 – Carry a Whistle
The sound of a whistle can be heard for incredibly long distances across open water. If you suffer an injury, lose your board or find yourself in some other type of emergency situation, a series of 3 short, sharp whistle blasts can alert someone to your situation.
7 – Don't Lose Yourself in the Experience
It's easy to forget that you can go from having the time of your life to a catastrophe scenario in just seconds. Keep an eye on your surroundings. Enjoy yourself and have a good time, but be aware of everything that is going on around you. SUPs can provide a lifetime of health benefits and outdoor enjoyment, as long as you respect the experience and keep your head in the game.