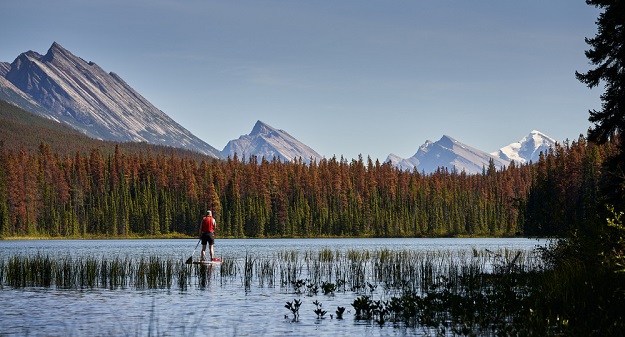 SUP boards can get you in and out of tight spots where a traditional canoe or small boat could never dream of going. That means they are perfect for fishing. Before you pack up all your fishing gear and grab your board, there are a few things you need to know that guarantee you catch your limit every time.
You Do Not Need an Expensive SUP Board Dedicated to Fishing
If you have the money, you may want to purchase an SUP board that has been designed specifically with a fisherman in mind. Just understand that these boards can run upwards of $2,000. If you are serious about fishing, this might be the way to go. However, an inexpensive all-around board is all you need to get you and your gear where the fish are biting.
Get a V-Shaped Hull If You Are Paddling Long Distances
When fishing, sometimes it is important to move around. If the fish are not biting in one particular location, you need to find out where they are biting. This could mean a lot of paddling. If this is the case, make sure you use a cruising or touring board. This type of SUP board is designed to cut through the water more efficiently than other boards, meaning you don't feel each and every wave, and you limit the impact to your arms and upper body.
Get (Or Make) Board and Paddle Leashes
You need to be attached to your board. You also need to be attached to your paddle. Paddle and board leashes are available at most SUP retailers and online. You can also make your own. The benefit for fishing when you are attached to your paddle board by a leash means once you get to your secret fishing hot-spot, you can dismount the board and wade freely without having to return to your board when you want to paddle on. When you are standing on your board and fishing, being able to access your paddle without bending over is important, and a paddle leash works perfectly for this.
Pack a Low Profile Cooler
For food and beverages, and perhaps even bait, a cooler with ice is perfect for SUP fishing. Placed appropriately, your cooler can also help you balance when you are fighting a larger fish from your SUP. There are coolers made with rod holders that are perfect for SUP fishing.
Pack Waders
You may plan on fishing from a standing position. Even so, there might be times you need to dismount from your board and you are unsure what you are going to be stepping on. A protective pair of waders keeps your feet free from injury when you can't see what awaits your feet below the surface of the water.
Take Advantage of Your Height
The biggest benefit of paddle board fishing over using a kayak or canoe is your vertical advantage. By standing up on your SUP you can spot schools of fish, and individual lunkers. This allows you to not only paddle where you need to be, but also to sight-fish, casting your bait or lure perfectly to snag that big red fish you would never have seen if you were sitting on your board.