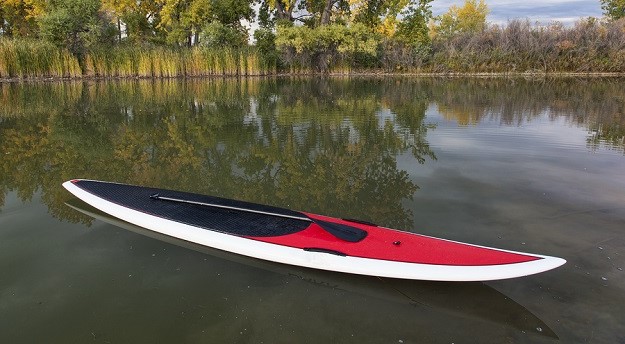 Let's face it. Stand up paddleboards can be expensive. If you are just starting out, you may not know if this is a flight of fancy or it will turn into a lifetime endeavor. So you may not want to invest a lot of money in your first board. Or perhaps your kids are dying to get involved, and you know that next summer they will probably move on to the next big thing as their boards gather dust. Either way, there are a few things you should know when buying a used paddleboard.
Never Buy In-Season
Have you ever tried to sell ice to an Eskimo? Pretty difficult, huh? When someone doesn't want something, it is hard to get them to buy. So the seller has to drastically lower the price tag of his product. Remember that when you buy a used paddleboard. Buy your SUP when the weather is cold and inhospitable, not during warm, sunny months where supply and demand could cause your price to go up substantially.
Check with Your Local Sporting Goods Store First
You never want to buy a used board of unknown provenance, and then the next day see a 40% off clearance sale on brand-new SUPs at your local retailer. You may also find that a display model or customer return has absolutely nothing wrong with it, but has to be marked down substantially. Sporting good retailers that rent boards eventually have to sell those used boards, and you can usually count on excellent quality.
Keep Your Eyes Open Year-Round
Yes, maybe you want a used SUP right now. Just remember that desperation and immediate need are going to lead to a higher price tag. Check Craigslist and other online resources for used SUPs regularly, as well as the physical sporting goods stores in your area. Keeping your eyes open all year long can often result in saving several hundred dollars and getting a used SUP in great shape.
Ask for a Trial Run
Any used stand up paddleboard you are considering buying needs to be tested. If someone is selling an old board, and it is of decent quality, they should not mind letting you take it out on the water for a test drive.
Stick to Your Requirements, Even if It Means Spending a Little More
Suppose you see an advertisement for a 50 pound paddleboard in excellent shape for just $50. That is a great price tag, but a 50 pound board is going to wear out even the fittest SUP paddlers just transporting it from vehicle to water and back. Write down a specific list of board requirements that you are seeking. Stick to them, or you may find that the money you thought you saved is actually wasted when you have to purchase another board anyway.
Buy from a Trusted Online Retailer
There are plenty of online paddleboard stores. Competition is fierce, and that is good for you, the customer. It is also easier to contact dozens of online SUP retailers than it is to drive around to several physical retail stores. When you buy your used SUP from a respected online retailer, a lot of times they will add a short-term warranty and other incentives if you will take a used board off their hands.