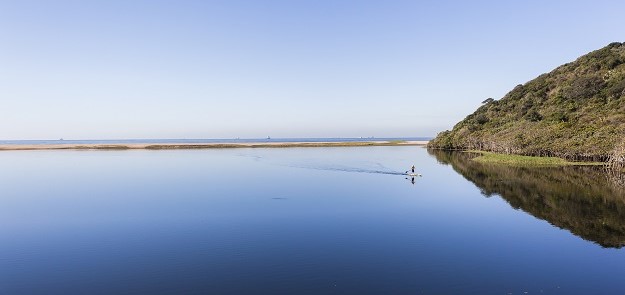 The argument can be made that any time spent on an SUP board is an adventure. You disconnect from the electronic world and are able to see, smell, hear and touch a natural water environment. (If you fall off of your board and don't close your mouth in time, you may even taste the SUP experience.) Whether slowly cruising flatwater lakes and streams or surfing the ocean, SUP boarding provides an enjoyable immersion into the great outdoors.
With the explosion of standup paddling popularity the last couple of years, SUP adventure outings have become increasingly common. Individual SUP guides, small mom-and-pop companies and even large travel agencies offer incredibly diverse SUP-based outdoor adventure packages. They take SUP boarding and add other adventure elements which appeal to standup paddlers to create an attractive package of several nature-based activities.
Beginner, intermediate and advanced SUP adventures allow you to learn paddle surfing in beautiful Costa Rica. You can flatwater tour the wild waterways of Oregon, or paddle through seldom seen Alaskan channels and waterways accessible only by an SUP board, canoe or kayak. There are SUP adventures available just about anywhere in the world that there is a significant body of water.
Many SUP adventure packages include horseback riding, camping and ecological education. Fortune 500 companies are even hosting SUP-based team building activities and excursions these days. Whether you live in or near a major city or wilderness hot-spot, stand up paddle boarding provides a physically, sensually and some say even spiritually rewarding way to enjoy mother nature in an ocean, stream or lake-based environment.
One of the big benefits of SUP adventures are their "dip your toe in the water" aspect. Without investing hundreds of dollars in SUP equipment and lessons, you can purchase an inclusive SUP adventure package for one low fee. This allows you to literally test the waters and see what the experience is like. If you find that standup paddling is something you want to enjoy on a regular basis, then you can invest in a board, leash, paddle and other SUP essentials and get more involved in this increasingly popular pastime.
You can alternately plan and schedule your own SUP adventure. If you enjoy camping, hiking, biking or any other outdoor activity, why not combine SUP boarding with your other outdoor hobbies for a weekend or week-long wilderness experience? You get unplugged and on your feet, benefiting from the fresh air and physical activities you enjoy, while experiencing a much-needed, stress-relieving mini-vacation away from the workaday world. Plan a memorable and physically challenging SUP adventure today. Don't you deserve it?