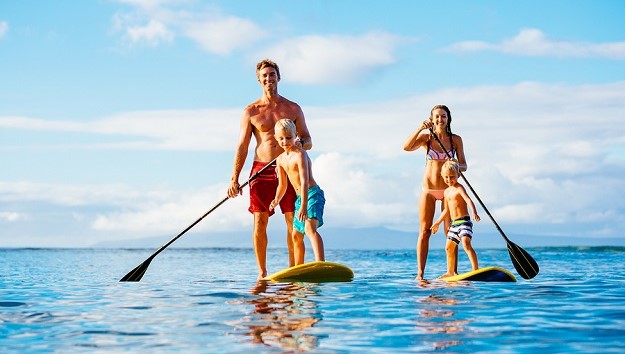 Stand up paddling is an affordable outdoor experience the whole family can enjoy. You can rent SUP boards, or purchase inexpensive all-around boards that work well for children and adults, men and women. All you need is a body of water and some spare time, and your family can bond while enjoying the great outdoors. No special skills are needed – just a love of physical activity and water-based fun.
Planning Your Own Family SUP Outing
If you already own SUP boards, plan a weekend outing at the beach or lake. Include activities that each one of your family members can enjoy, and perhaps get another family or group of friends to join you. Make an entire experience out of exploring your nearby waterways, and include nature lessons and activities to keep the kids happy and engaged. Or, if you want to guarantee an excellent SUP family adventure and aren't sure what to do, consider this next piece of advice.
Family SUP Adventure Packages
Why not let someone else do all the planning? You are very busy every day. Your business, personal and family obligations probably take up most of your time. If you want to get your family unplugged from reality television, smartphones and computers, pick up the phone and sign up for an adventure SUP family package. For one flat fee, expertly trained stand up paddle boarders will take you on an outdoor experience the whole family will love.
Buying Your Own Equipment
As we mentioned above, there are options for renting SUP equipment in many cities. Or you can always purchase your own equipment, promoting a healthy, fitness-based way of life that keeps your kids active and outdoors. The increase in popularity of stand up paddling the last couple of years now means that the big box sporting good retailers are involved. This has driven down costs drastically, meaning a board, paddle and leash package can be purchased for less than $500.
If you buy an all-around board, every family member can use it. Then you need only purchase individual leashes and paddles. You can choose from touring or racing boards, inflatables, children and women-specific SUP boards and paddles, multiple brands and material types, and even invest in a few family lessons.
Just Get Your Family Out on the Water!
SUP boarding is a perfect family activity. Everyone loves to hit the beach, a lake or stream, kids and adults alike. Parents love the fact that they get to "unplug" their kids, and even less than enthusiastic family members have an enjoyable and memorable time in the sun and the surf. Pack a picnic lunch, grab your boards and hit your nearest waterway for the perfect outdoor family experience.